Motorcycle Specials is a new series of articles by Martin Squires documenting a range of adapted and often one off machines, whose creators have prioritized function over form. These built for purpose machines giving us an insight into the motorcycle industry of the time as well as the riders and creators of these fantastic machines.
In The Beginning
My investigation into the story of one of JAP's last racing engines and an engineer's efforts to build and race competitive British motorcycles started when I saw Ewan Cameron's 500cc Phoenix-JAP. After asking Ewan for more information, he sent through a scan of a Vic Willoughby article published in The Motor Cycle, April 2, 1952. From here the story unravelled and with further research, this is what I have so far.
Precision engineer and keen weightlifter Ernie A Barrett, from Harrow, Middlesex, started grass track racing in 1946, attending meetings at Folkstone, Lydden Hill and Faversham among others. Ernie ended his first season by winning the Novice Cup at the final meeting of the season, at Brands Hatch.
The following year, Barrett started road racing. As Britain recovered from the war, venues for racing were in constant flux, with airfields commonly playing host to road racing events due to the lack of dedicated circuits. Barrett would attend meetings on the airfields of Ansty, Dunholme and his more local venue of Abridge. As many an ambitious road racer made their annual pilgrimage to compete on the most demanding road circuit, the Isle of Man, so too did Barrett. His first entries were on Nortons in both the Junior and Senior Manx Grand Prix of 1947 – disappointingly, he retired from both races.
In 1948 his luck changed in the Lightweight Manx GP, finishing an impressive second on a Moto Guzzi, at a speed of 69.77 mph; this was to be his best ever Isle of Man result. In subsequent years, he suffered multiple retirements on both Norton and AJS machines.
By 1950, Barrett had moved to Tottenham, North London – this is an important point which we will come back to. During this time, Barrett's racing achievements were a mixed bag; 10th place in the Ulster GP showed that he could definitely compete, while his Manx attempts were overwhelmingly non-finishes. There was a change of fortune in 1952, when he entered the Lightweight TT again on a Moto Guzzi and came in 11th place. His Senior entry of the same year, on a Norton, resulted in a finishing position of 34th.
A New Start
On seeing this string of results – with consistent retirements on British machines and his best achievements on Italian motorcycles – I have formed the impression that Barrett thought he could do better with a machine developed by himself. Surely, with all his experience in road racing not only on the Isle of Man but in the Ulster GP and various other meetings, along with his skills as a precision engineer, Barrett could build a motorcycle that would produce results?
The main element to decide on was the engine. For this, he turned to his now-local Tottenham firm J.A. Prestwich (JAP). At the time, the company was in decline but was still producing and developing engines for both stationary and transport purposes.
In September 1952, a good three months after his mixed results in the TT, Barrett took a 'Featherbed' Norton to the Oliver's Mount meeting, Scarborough, that had people talking. The OHC Norton engine had been replaced by an interesting experimental motor made by JAP. Seen in a clipping from Motor Cycling, dated September 25, with the fuel tank bearing the Norton name, this was a very early test for Barrett of the JAP 500cc unit.
The 500cc engine was one of a batch of six engines JAP developed for Stirling Moss to use in his Cooper racing car in the 1950 Monaco GP meeting. In order for Moss to run his Cooper in both F3 and F2 classes, JAP made this special 500cc engine which used a crankcase with the same mountings and engine plates as the 1100cc V-twin, so the engines could be swapped between races. To save on a completely custom bottom end, JAP kept the barrel angle the same as the V-twin, with one barrel blanked off for the single cylinder F3 class.
By the time JAP gave Barrett one of these engines they were two years old – whether they were sitting around the factory gathering dust, who knows? For some reason Barrett mounted his 500cc Moss JAP with the barrel in a vertical position, like a normal single cylinder, his reasoning behind this is unknown. Further to this, according to Jeff Clew, the JAP works didn't publicly release any official details of their new engines until November 1952, when they announced a new OHV single cylinder engine, '…a 250cc version of the experimental engine used by Ernie Barrett at the Oliver's Mount meeting… [it] was designed primarily for sprint use.'
In the somewhat promotional piece published in The Motor Cycle, April 2, 1953, entitled "New Racers On the Way," Vic Willoughby visits Barrett's works in Tottenham, where he saw three prototype racers for the coming season.
It isn't long before the 'Phoenix' name is mentioned; Barrett planned to sell production versions of these racers under the Phoenix moniker. All were being designed to use the new JAP 250cc, 350cc, and 500cc engines. Barrett himself had been involved with the development of the 500cc unit for '…the last six months' according to the article. Willoughby also points out that: "Racing men will need no reminding that there is at present no British Racing 250 in production."
It is mentioned in the article that the 250cc, 350cc and 500cc engines weighed 67lb, 70lb and 82lb respectively. Willoughby described the engines as follows… "The crankcase is cast in Elektron, the cylinder is a Wellworthy Al-Fin production and the cylinder head is an RR53B casting, with shrunk in, aluminium-bronze valve seats and a brass sparking plug boss. The cylinder-head joint is ground and no gasket is used."
JAP engines are renowned for their low end torque, hence the engines were so popular in speedway. In testing at Brands Hatch, Barrett found that the 248cc JAP engine out performed his same size Moto Guzzi, giving an '…advantage of two or three seconds in favour of the JAP.'
Willoughby was shown not only the new JAP engines, he also saw the frames that Barrett was building. Notably inspired by the Norton Featherbed, the standard of the time, Barrett employed a duplex frame with double tubes used across the top and bottom, with the top tubes coming out from behind the steering head around either side of the engine in a straight line to the back.
This provided rigidity for not only handling but dispensed with the need for a rear subframe, as the suspension hung from these rear one piece tubes. The rear suspension was telescopic, but Barrett personally would have preferred to have these with additional friction dampers, while the front forks were Earles-type, with hydraulically dampened spring units. The bottom tubes – similar to the Featherbed – ran down from the steering head and looped round the engine, with cross bracing all held together with bronze welding.
It was also recorded that the Phoenix machines would have Albion HTT gearboxes, 19inch alloy wheels with Wellworthy Al-Fin brake drums, and all light alloy tanks and mudguards. Barrett estimated that the machine would weigh in the region of 225lb to 250lb, depending on the engine size. The engines had been bench tested by JAP and were producing anything from 18.6bhp at 7200rpm for the 250cc unit up to 46bhp at 6000rpm for the 500cc unit.
At the time of Willoughby's article, the Phoenix machines were not complete. The latter part of the article documents a test session at the new Snetterton circuit, in which the Phoenix on test was using the new JAP engine in an older Barrett frame, built 'some six years' before.
A week after the article was published, a programme for the Crystal Palace meeting, on April 11, 1953, lists Barrett on two Phoenix-JAPs. The difference in time between Willoughby's visit and this meeting is unknown, so I'm unsure as to whether the Phoenix machines entered included the older frame version as tested at Snetterton, or Barrett's newly developed duplex frames. The fact Barrett was using the Phoenix-JAP name shows he was actively promoting his endeavour, as well as testing the new 250cc and 350cc JAP engines. One would assume Barrett was using various meetings to test, develop and prove his machines, before their big debut in the Isle of Man.
Barrett ran the Phoenix-JAPs machines for two years running on the Island and it was in the Lightweight TT that he and the 250cc Phoenix performed best, with 12th place in 1953 and 17th in 1954. The 350cc and 500cc entries for 1953 resulted in retirements.
By 1954, Barrett's Senior entry was on a Norton instead of the 500cc JAP, though he did enter Phoenix-JAPs into both the Lightweight and Junior entries, with the aforementioned 17th place in the Lightweight and a retirement yet again in the Junior. After this, Barrett wouldn't return to the TT until 1957 – the assumption would be that during this time he was concentrating on the launch of his next endeavour, the Phoenix Scooter, which was produced from 1956 until 1964; less exciting but probably more profitable than highly specialised road racers.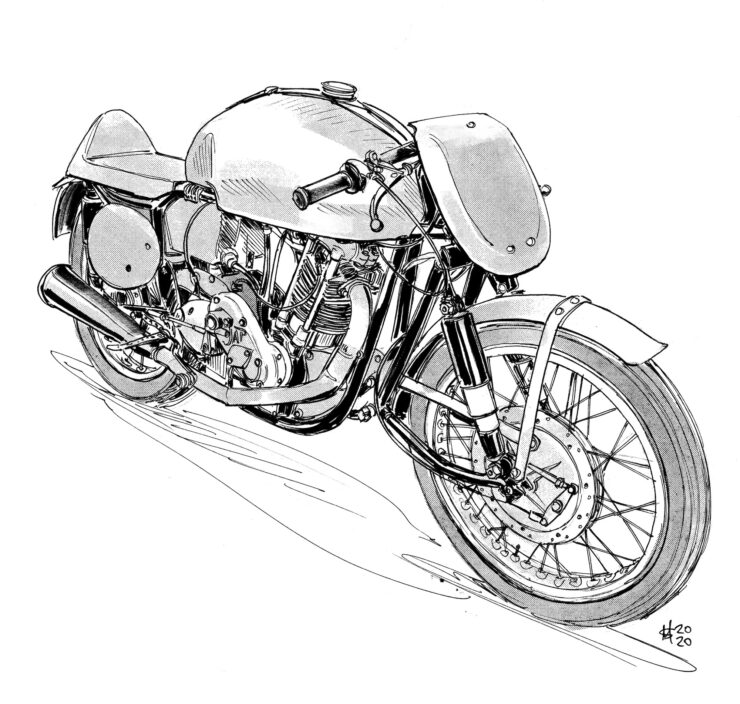 Survivors
The total number of Phoenix-JAPs built by Barrett is unknown. The Motor Cycle article indicates he was working on three frames at the time of Willoughby's visit. There are possibly four Phoenix machines known – as with any small production racing machine, they rarely stay together in their original configuration for long. There are reports of Frank Heath racing a Barrett-framed machine with a Benelli engine in the 1960s. I've also seen a machine with Benelli on the tank with a JAP engine. Whether these are the same machine at different times, who knows, but it goes to show how race machines inevitably dissipate and then come back together.
One of these existing Phoenix-JAPs was put together by Ewan Cameron circa 2004, using a 500cc engine identical to the 500cc engine that Barrett premiered at Oliver's Mount in 1952 and used in the Isle of Man. The one notable difference between Barrett's machine and Ewan's is the angle of the barrel. The Moss JAP engines were designed to be mounted with the engine in a sloped position due to the V-twin bottom end, as explained earlier, and this is how Ewan has mounted his.
The frame is a Barrett frame, which was owned by Sid King. At the time, both Ewan and Sid decided that the frame and engine belonged together and so the 500cc Phoenix-JAP was reborn. The aluminium bodywork was made at Cameron Engineering and Motorsport Ltd. using the few period photos existing, including one of Barrett in the Isle of Man during 1953 with a Phoenix in TT trim.
Another Phoenix-JAP, this a 250cc version, was sold at a Cheffins sale in 2015, where the listing stated that it had been put back to its correct configuration with a dry sump, all aluminium JAP engine using a Triumph piston, increasing the bore by 2mm. It had one outing to North Weald and local East Anglian shows. It's great to know that these machines are still around in configurations that honour Barrett's achievements and I look forward to possibly bumping into them in the future.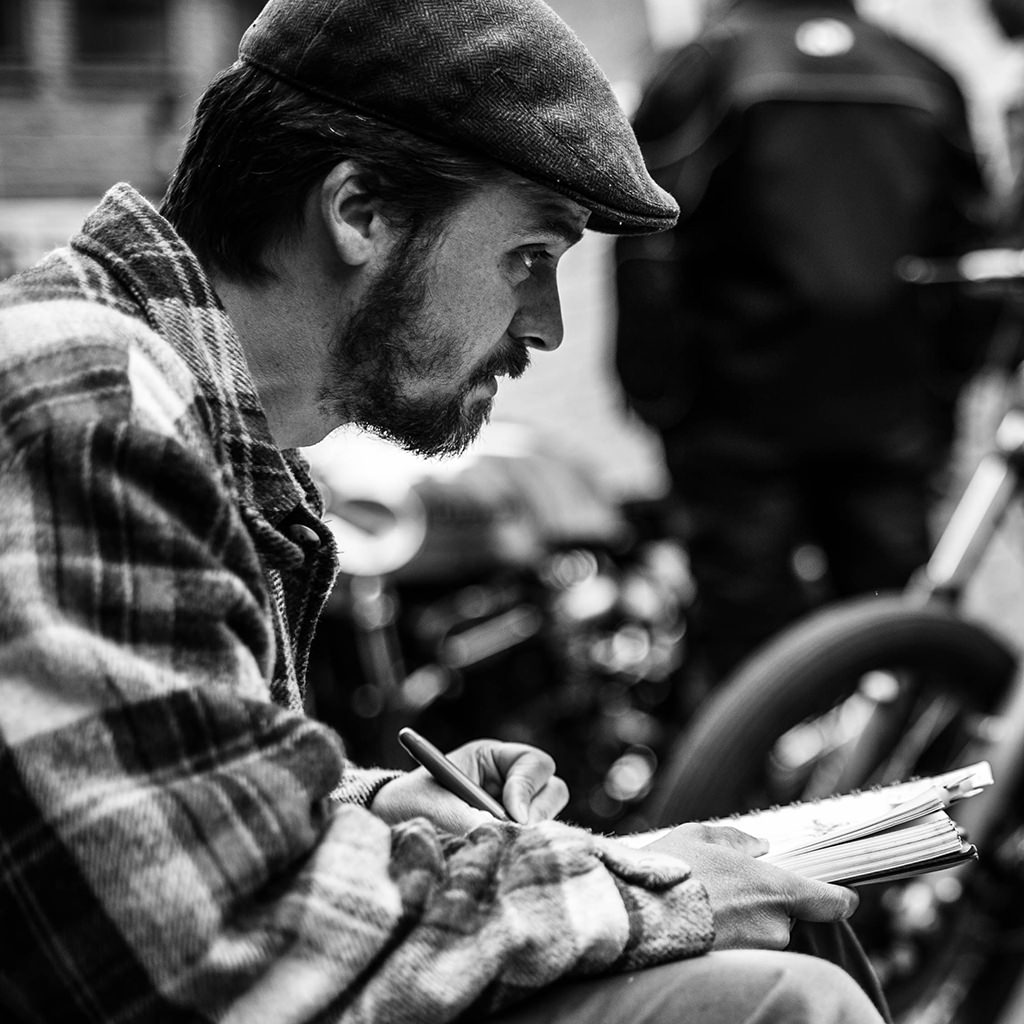 Martin Squires has an obsession with motor powered transport. A major part of his practise is sketching at motoring events.
The results of a days or weekends sketching are used to inform further research and writing on the history of motorcycles. Regular articles are published in 'The Classic Motorcycle' magazine and Hargerty.com
This obsession started through a family connection with Morgan Three Wheelers and various British Motorcycles.
Combining this obsession with a natural talent for sketching and painting Martin has developed a distinctive style which has evolved through a combination of reportage sketching and studio work.