Pavel Malanik's life passion has been motorcycles, and not just motorcycles in general, but the creations of the earliest years of motorcycle development, coinciding as it did with the invention of powered flight, and automobiles. The motorcycle you see here was built by Malanik using the design of an early J.A. Prestwich 4.4 liter V8 aircraft engine.
Malanik's chief interest has been in the engines of the first and second decades of the internal combustion revolution, and in the motorcycles with which those magnificent men in their two-wheeled "flying machines" carved out their place in human history.
Fast Facts – Pavel Malanik's 4.4 Liter V8 Motorcycle
Pavel Malanik is a vintage motorcycle aficionado who has been working on motorcycles for the better past of 45 years.
Professionally Pavel is a toolmaker, which means he has a high degree of skill in machining parts out of steel and aluminum.
Pavel began making re-creations of vintage motorcycles including rare models as a Laurin & Klement CCCC, the first inline four cylinder motorcycle made in Eastern Europe.
Since then he has made a number of increasingly complex vintage re-creations including a Trojan & Nagl Torpedo W-4 and a North London Garage bike installed with a 2,714 cc (165.62 cu. in.) V-twin J.A.P. engine.
Pavel's most recent creation has centered around the re-creation of the air-cooled J.A. Prestwich 4.4 litre aircraft engine and then creating a motorcycle in which to fit it and properly enjoy it.
Who Is Pavel Malanik?
Pavel Malanik is a Czechoslovakian toolmaker who has a particular penchant for the motorcycles of the turn of the century. As a highly skilled and experienced machinist Pavel has the skills and knowledge to create almost anything in steel or aluminium, and as he has a fully equipped workshop and a passion for the motorcycles of the early 1900's.
He brings his passion and skills together and makes motorcycles that have long since vanished come back to life for a new generation to enjoy. He makes almost every part from scratch by hand: he is so dedicated to motorcycles that I suspect that George Brough himself would have been fascinated to take a look around his workshop.
Pavel, who is nowadays in his sixties, has been working on motorcycles since the communist-era in Czechoslovakia, so for about 45 years or so. He started out working on regular production bikes, in Czechoslovakia at the time the choices one had in obtaining an interesting motorbike were rather limited and enthusiasts were keen to try to have a bike that was unique – a statement of themselves expressed in steel, aluminum and leather.
Pavel initially worked primarily on Czech motorbikes, mainly those made by Jawa and CZ, and also on a few BMW's. As his knowledge of the heritage of these bikes deepened Pavel became especially interested in the turn of the century bikes, and so one of his first reproductions was a Laurin & Klement inline four cylinder model CCCC.
The motorcycles of this era had become a rarity, most having not survived the turbulent times of two World Wars and the political events surrounding them. So Pavel began doing full restorations and then making reproductions of these motorcycles from scratch.
Pavel's re-creations thus far have included a Trojan and Nagl W4 from 1908-1909, and a North London Garage V-twin from 1909, both of them magnificent machines. But it has been Pavel's decision to allow himself the freedom not just to re-create motorcycles from the historic past, but to re-create a historic and fascinating engine, and then create his own period correct design for the motorcycle into which to fit it.
The engine that Pavel selected as being the one he wanted to re-create was one with a fascinating and yet mostly unknown history; the 4.4 litre J.A. Prestwich air-cooled aircraft OHV V8.
The Original J.A.P. V8
The original J.A.P. V8 engine of a nominal 47 hp was an OHV air-cooled unit intended primarily for aircraft propulsion. J.A.P. made a variety of aircraft engines of which the air-cooled V8 was one. Examples of the V8's use included one which was used in the Willows Dirigible airship and powered it on its flight from Bristol to London in 1910. A second of these V8's powered a J.A.P powered monoplane (probably the Martin-Handasyde) and that original engine is on display in the Science Museum in London, UK. A third survivor is on display at the Belfast Aero Museum and is installed in a replica of the first Fergusson flying machine.
The fourth survivor dates from 1908 and is installed in a restored GN Cycle Car which is in running condition and owned by a gentleman named Richard Scaldwell.
So the J.A.P. V8 found use in aircraft and a motor car – but never before in a motorcycle.
The Creation of the J.A.P. 4.4 Liter V8 Motorcycle
While the original J.A.P. 4.4 litre OHV V8 was installed in an airship, a monoplane, and a car, it took until 2017 for Pavel to start his quest to make a motorcycle fitted with one.
In the absence of proper scale drawings he wondered how he could do this but then discovered that there was one of these engines preserved in the Science Museum in London, England. It was time to visit London with tools to take the accurate measurements, and take photographs sufficient to enable Pavel to make a new identical engine.
In order to make his previous re-created motorcycles Pavel had used whatever information was available – which was quite scant. Equipped with minimal dimensional and technical information Pavel would use photographs to get scale dimensions by painstakingly measuring and scaling. So he obtained as close as possible plans for his re-creation.
For this V8 engine he was going to be able to get access to a surviving example and take accurate measurements of it: something that promised to make the task of making an exact re-creation much easier. So with this incentive Pavel made the trek from his home in Czechoslovakia to London's Science Museum – a long journey, but worth it.
Happily the staff at the Science Museum had decided that the J.A.P. V8 engine would make a much more informative exhibit if they cut it open so people could see its internal workings. The fact that it was one of only four known survivors in the world seems not to have been important enough to preserve the engine in its original condition: but for Pavel this was a distinct bonus as he could measure and photograph the engine far more effectively with it cut open – so perhaps the Science Museum staff had been right to selectively cut parts of it open.
Although Pavel had made advance arrangements to view and measure the engine he admits to having been a little nervous about being admitted into the museum with his bag of instruments – there had been terrorist attack in London that year and he expected that security staff would be at their most vigilant. However Pavel's prior communications paid off and the staff were prepared for his visit and all went according to plan.
Once back in his home workshop in Luhačovice, Czechoslovakia, Pavel began the process of creating the bike, starting with the engine. He set about creating each and every part with the exception of the crankcase, which needed to be cast, and the three ring aluminium pistons, for which he was able to obtain suitably sized parts.
The motorcycle was made to be suitable for regular riding and so Pavel included some modern features to ensure this, one being the modern 4 Ah lithium battery to make the ignition work as reliably as possible.
Pavel decided to have some parts nickel-plated and he needed to outsource that work also. Nickel plating is period correct and it produces a softer and more aesthetically pleasing effect than chrome. The nickel plating has proved to be a good choice and gives the bike's engine an outstanding appearance.
While he had been able to get an excellent set of dimension information from the London Science Museum engine there were still things that had to be worked out and calculated. The timing of the camshaft to get the valve timing correct is a good example of this. Pavel took weeks of trial and error to get that calculated, and then to get the parts made and tested.
Once the engine was created the transmission, frame, suspension, period correct braking system, and controls all needed to be fabricated. The journey to create the bike began in 2017 and was completed in 2021, almost four years of concentrated effort.
It is clear from the photographs that Pavel spared no effort in creating his J.A.P. V8 motorcycle. It was also made clear when the bike won "Best of Show" at the Bohemian Custom Motorcycles Show in Prague in March 2021.
Specifications
The Engine
4.4 litre air-cooled OHV V8 – original J.A. Prestwich engine was made beginning in 1908. (note: J.A. Prestwich made two types of V8 aircraft engine in this period; an air-cooled 34 hp with bore and stroke of 3.35 in × 3.74 in (85 mm × 95 mm), and a liquid cooled 45 hp with bore and stroke of 3.54 in × 4.33 in (90 mm × 110 mm).
The London Science Museum engine is listed by them as a J.A.P. 45 hp 8 cyl. O.H.V. V-type aero engine, 1909, No. 1111, with Eisemann Magneto and J.A.P. carburettor, This is the exact engine that Pavel Malanik reproduced.
The actual power of an engine depends on a number of factors not least of which are the type of fuel used and the camshaft profile. Pavel uses a special fuel mix for his engine because modern petrol/gasoline is not suitable for it, this being in part due to the low 3:1 compression ratio.
Bore & stroke: 86 x 95 mm
Power: About 50 hp at 1,300 rpm
Torque: About 250 Nm (184.4 lb/ft) at 1,000 rpm
Compression ratio: 3 : 1
Crankshaft, rods & pistons: Flat crankshaft, divided into individual segments, milled connecting rods, ball bearings below, bronze bushings above.
Cast aluminium pistons with three rings.
Single camshaft fitted in the "V" between the cylinder banks with pushrods and rockers to actuate the overhead valves.
Non-removable cylinder heads, one per cylinder and two overhead valves per cylinder. Exposed valve rockers and camshaft.
Oil & Cooling System:
Engine is air cooled, the crankshaft is lubricated by a loss lubrication system. Valves, rockers and cams are lubricated by hand pumps before the ride. The hand pumps are used to lubricate about 90 places in the engine. (If you watch the video of the GN cycle car you will see examples of such oil pumps in action).
The electrics of the bike are supplemented by a modern 4 amp/hr lithium battery.
The crankcase is divided into four separate sections, each one providing the lubricating oil for two cylinders.
Fuel tank has a capacity of 6 litres and the fuel tank incorporates an oil tank for engine lubrication.
There is an additional oil tank for camshaft lubrication underneath the fuel tank.
Fuel consumption is 8 litres per 100 km, giving the bike a range of about 80 km.
Transmission
To cope with the quite prodigious torque delivered by the V8 engine Pavel used two chains, one on each side of the bike, to drive the rear wheel. On his previous motorcycle creations he had used a more traditional belt drive, but for the V8 a belt would simply not suffice.
The chain drives are 3/4 inch (by comparison most motorcycle chains are of 5/8 inch) and these are connected each to a clutch in the hub of the rear wheel, and the clutch acts to select either first or second gear. This system was common in the early 1900's on both motorcycles and cycle-cars. Because of the very high torque delivered by the V8 these drive chains have to be replaced every few hours of riding.
In use Pavel has said that there is so much torque coming out of the engine that the two speed gearing has proved to be unnecessary.
Brakes
Contracting band type brakes, one on left side operated by a lever attached to a brake pedal under the rider's left foot; and one on the right side operated by the rider's right foot.
Frame
Pavel custom designed steel tubing frame with custom designed and made foot-pegs.
Short rear mudguard, no front mudguard.
In designing the frame for this motorcycle Pavel was faced with a difficult problem. The engine is long and getting it into a frame that is short enough to handle acceptably was not easy. As it is the engine sits just ahead of the rider's legs and the rider needs to be careful not to allow his/her legs to come into contact with the cylinder heads of the rearmost cylinders.
Suspension
Front: Custom design conical tube rocker arm suspension.
Handlebars: Custom design. The handlebars required reinforcing bracing to triangulate the assembly because of the considerable weight and vibrations generated by the engine.
Each side of the handlebars fitted with rotatable grips; left side controls manual ignition advance/retard. Right side controls the throttle.
Rear: Fixed rear frame, saddle with spring suspension.
Wheels and Tires
26 x 3 in. wire wheels fitted with Ensign special beaded edge tyres. The tyres need to be inflated to 5 atm to set them correctly in the rims.
Conclusion
This motorcycle created by Pavel Malanik is an outstanding example of the blending of technology with history.
It is without doubt a rolling piece of art, and combined with that it requires the learning of the art of riding it. Everything is manual including the ignition advance/retard which has to be balanced with the throttle, the fuel flow likewise has to be controlled, and the oil flow to the engine also has to be monitored and managed. It is a complex challenge to ride, which of course is part of the satisfaction of owning and riding it.
Imagine the sheer satisfaction that Pavel Malanik experiences every time he takes it out for a ride – riding a machine he created with his own hands. It was without doubt a herculean effort to create it, but the reward of the enjoyment of owning and riding it have made the work of creation worth every hour it took. If you'd like to see more of Malanik's incredible work you can visit his official website here.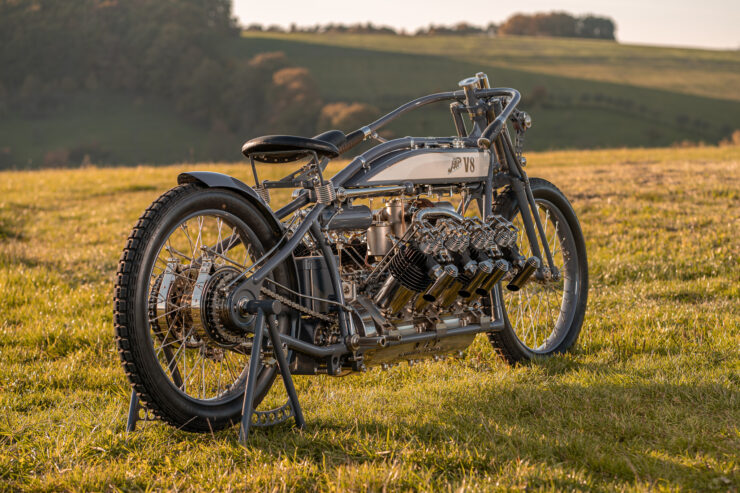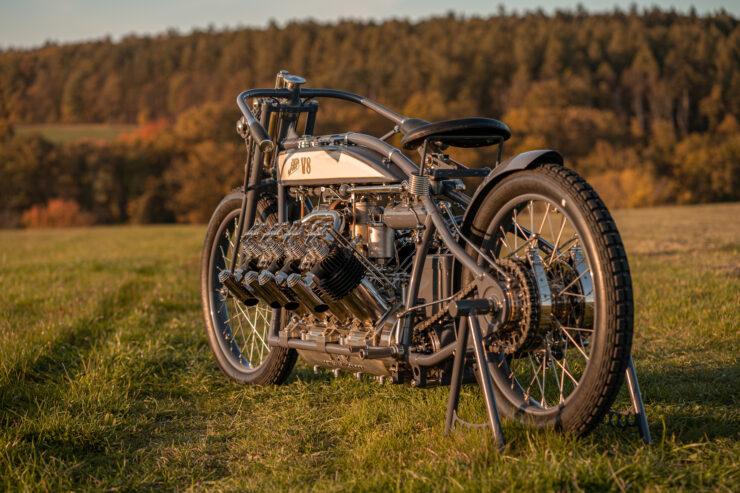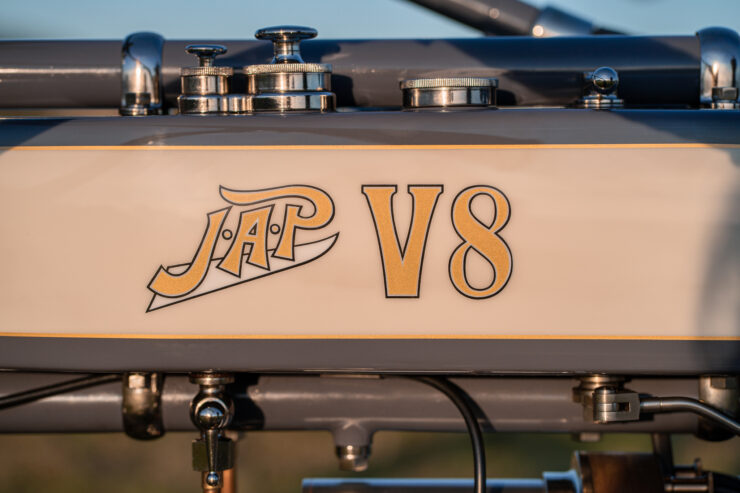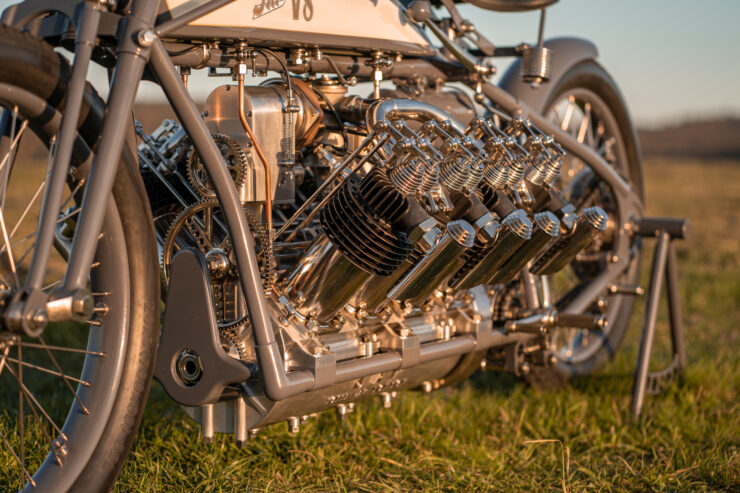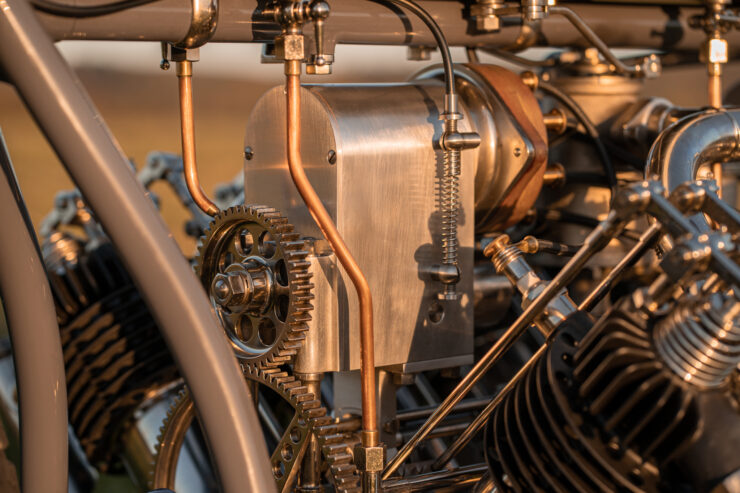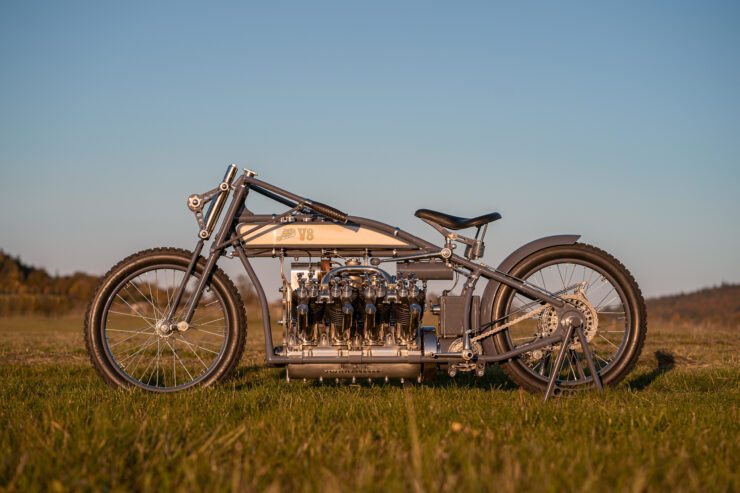 Picture Credits: All pictures courtesy Pavel Malanik.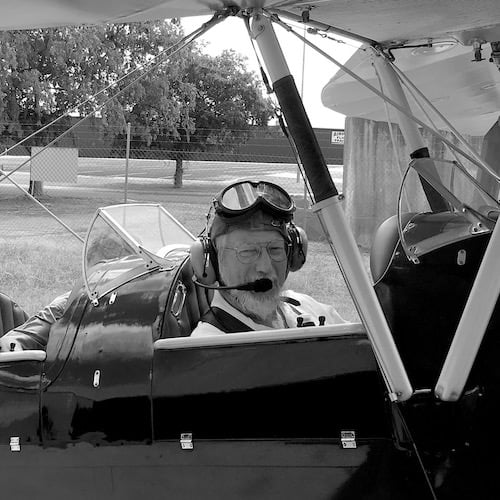 Jon Branch has written countless official automobile Buying Guides for eBay Motors over the years, he's also written for Hagerty, he's a long time contributor to Silodrome and the official SSAA Magazine, and he's the founder and senior editor of Revivaler.
Jon has done radio, television, magazine, and newspaper interviews on various issues, and has traveled extensively, having lived in Britain, Australia, China, and Hong Kong. The fastest thing he's ever driven was a Bolwell Nagari, the slowest was a Caterpillar D9, and the most challenging was a 1950's MAN semi-trailer with unexpected brake failure.